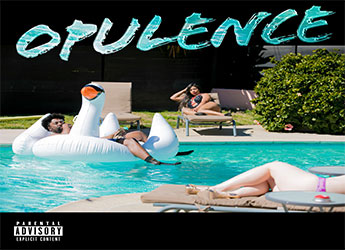 K. Gaines drops off his new single titled 'Opulence'.
Brooklyn emcee K. Gaines presents 'Opulence', the first single from Ticket To Elsewhere, his forthcoming collaboration EP with Los Angeles-based producer Maxwell Benson dropping December on Priority/Capitol Records. Ras Kass, Lyric Jones, Phaze4K, Leo Coltrane and Sebastian Marciano are set to appear on Ticket To Elsewhere, the first of five EPs K.Gaines plans to drop in 2018, each of which will be a collaboration with a producer from a different region of the US. Maxwell Benson has worked with Too Short, Rapper Big Pooh and Sadat X, and gives Ticket To Elsewhere its West Coast focus.
Gaines' last album was Rumspringa: The Wildman Chronicles and starred in the short film Kung Fu Bum which was showcased at several film festivals. Los Angeles visual artist Reef Kills provided Ticket To Elsewhere's cover art. The artwork for each EP in the series, once juxtaposed with each other, will form a more intricate visual piece with all the purpose and intention of a map which can lead you to hidden prizes around the country. "I was listening to a lot of Tribe Called Quest when I made this track," Benson says about the new single. "I was really geeking out over their use of basslines and wanted to make my own version of that.
Getting in the studio with Gaines is always an exciting venture. He has a secret method and ritual that has to happen before he lays all his vocals that only those that work with him know about." Regarding 'Opulence' Gaines says simply,"Either you are with it or not. If you don't get it then it wasn't meant for you. If you get it …welcome to Ticket To Elsewhere."