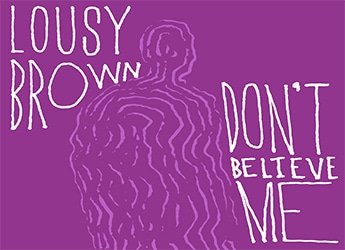 Lousy Brown makes his debuts on SpitFireHipHop with 'Don't Believe Me'.
Atlanta-based rapper, visual artist, designer, and beatmaker Lousy Brown presents 'Don't Believe Me', the B1ackboy-produced title track from his forthcoming EP. Born in Louisiana and raised on Mississippi's Gulf Coast, Lousy was part of the Dope Sandwich collective in Savannah, where he released his first EP, 2009's Mr Brown Poetry, before moving to Atlanta. Since then he has released It's A Long Story alongside Swigs McLane as one half of duo Super Lario Bros, as well as his solo EP Years and his March 2017 single 'Southbound'.
Lousy says his new single is about "getting through obstacles and making things happen. As my goals become clearer, it's easier to cut things out that prevent me from reaching them. I'm at a point, creatively, where it's more important for me to bring my ideas to life than to convince anybody my ideas are possible." The Don't Believe Me EP drops November 7.