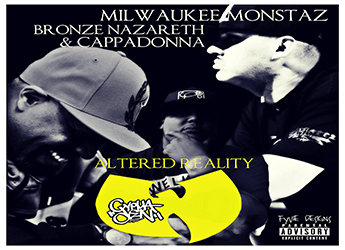 Milwaukee Monstaz connect with CappaDonna and Bronze Nazareth for 'Altered Reality'.
You might get chills just hearing the eerie production by Australian producer Dcypha. who makes this track very epic and movie soundtrack like. Milwaukee Monstaz If your not familiar yet, consists of Milwaukee emcees and Cypha Den Outfitters Taiyamo Denku and Maximus Da Mantis. On Altered Reality, they bring Wu family with them. Cappadonna Starts the song off with a very straight forward hook. Bronze Nazareth starts the track off very Lyric heavy which sets up the theme for the rest of the song.
Denku has bars and by now we know that , this track plays no slouch to the term Barwork. Maximus always has a unique style with each rhyme he puts together. Its dope hearing Cappadonna come in and say "Only My Clan Brothers Call me By My first Name." He completes the song with a very Wu vibe verse. The song overall will give you a look into a different reality of what you might see Hip Hop as.