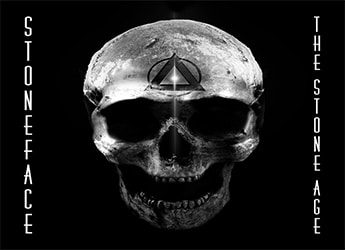 Stoneface is prepping the release of his new album and drops 'Stone Age' produced by BP featuring  Lil' Fame (M.O.P.).
North Philadelphia's Stoneface has been through life-changing experiences few can relate to.  How many people can say they died, left their body, and then came back to life?  Furthermore, how many can say they survived a shooting to the head?  With that said, it is time for Stoneface's story to be revealed to the world.  In 1999, Stone was shot in the head at close range, flat-lined twice on the operating table and came back to life robbed of his eyesight.  His tragic story has been documented and broadcasted globally by A&E's hit television series "I Survived… Beyond and Back".  While adjusting to being 100% blind, Stone continued to master his rhyming abilities while crafting new ways to write his lyrics, using a small voice recorder as his pen and paper.
Now, in 2017, Stoneface is prepping his debut album 'The Stone Age' and enlists Lil Fame of M.O.P to assist him on the title track, 'Stone Age'.  The two spitters take turns introducing the world to Hip Hop's newest chamber while delivering high energy performances that pair perfectly with beat-chemist BP's rugged production. When speaking to Stone about the title track he said, "This is the perfect introduction to my album… it was important for me to uncover the many hidden faces of The Stone Age… the realm of the master architects that lived off the land… the great minds that developed essential sciences to survive… I feel too many people think of The Flintstones or mentally undeveloped cavemen when hearing the words stone age… It was time for me to change their thinking by revealing the truth".
Stoneface's debut album, "The Stone Age", will be released physically and digitally November 3rd on Gemstarr Regime Records and distributed worldwide by Traffic Entertainment/ The Orchard.  "The Stone Age" is entirely produced by Long Island's BP and features guest appearances from Freeway, Sadat X, Nature, Lil Fame, Ras Kass, William Cooper, Blacastan, 9th Prince and Quiyiim Bayah.
Pre-order the new album here.