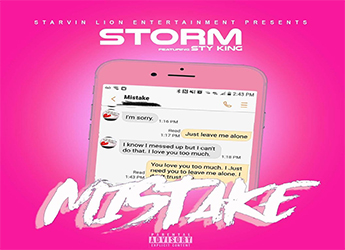 Storm debuts on SpitFireHipHop with 'Mistake' featuring STY King.
"Storm" is a truly apt name for this amazing artist. Femcee, entrepreneur, seasoned recording artist, and songwriter, Starvin Lion Entertainment artist Storm teams up with the incredible talent known as STY King to bring to their fans, the new hit single 'Mistake'.
The artwork for "Mistake" sets the tone for the song itself. It's a tale of a relationship gone sour, due to the trifecta of betrayal - infidelity, lies and deceit. There's much more to come from Storm in the very near future.