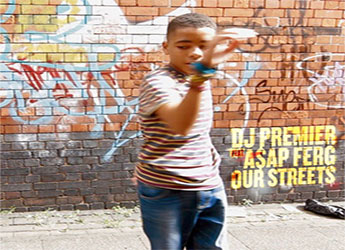 DJ Premier releases 'Our Streets' featuring A$AP Ferg.
Just hours after the relaunch of Payday Records, the iconic record label has released its first song "Our Streets" featuring legendary producer DJ Premier and A$AP Ferg, which is available today via digital retailers everywhere. 'Our Streets' is the first song released by hip-hop and EDM pioneer Patrick Moxey's newly relaunched record label. DJ Premier is reunited with former Gang Starr manager Moxey as the first artist to release music on Payday Records.
"Our Streets" is a true New York hip-hop track, combining DJ Premier's signature beats and A$AP Ferg's versatile style to create a classic, raw and energetic sound. The song marks the first time the legendary DJ and rap star have worked together, despite both being prominent figures of the New York hip-hop scene for years.
"It's a dream to be able to work with the legendary DJ Premier on this record" stated Ferg. "Preemo has worked with all the NYC hip hop icons and greats – Nas, Biggie, Guru, Hov, KRS-one, and The Lox. Just knowing I was working with him pushed me as an MC."
"With Ferg, or anybody I work with, they already know my history so they know that I come from the 90s era" DJ Premier said. "Ferg just automatically said 'Don't do what I've been doing on my albums – I want you to do a Preemo style and let me show I can rap to that,' so I was like 'let's do it.' Everybody was happy off jump – no suggestions, no 'I think we should go this direction' – it was an automatic in, out, done, in one day."