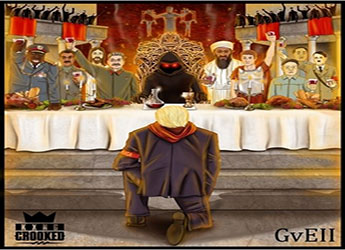 KXNG Crooked returns with his 'The MAGA Continues' single.
Almost a year ago (11-11-16 to be exact) today, KXNG Crooked released a manifesto in the form of Good Vs Evil.  To rewind, Donald Trump had just been elected the 45th President in one of our most controversial presidential elections, divisiveness infiltrated every aspect of the populous, governmental agencies were willingly pumping poison into its communities, protests were raging in the streets, unprovoked police brutality was rampant (with zero accountability) and the societal divide widened with each passing day.
With a seemingly basic disregard for human rights, it was understood that we were living in a complicated and dangerous time.  People were in search of answers and a unifying message; KXNG Crooked's Good Vs Evil could not have appeared at a more needed time as he delivered a project that stared into the face of oppression and struck a nerve.
Though it seems counter-intuitive and unimaginative, the year that has passed in-between has led us even further astray.  The Donald Trump era has borne witness to fake news, championing racism, bigotry, separatism, sexism and a general contempt for rule of law.  Further, he continues his quest to eradicate the health care of millions, advocated a foreign government meddling in an election, diminished our standing in the International community and displayed more concern about the behavior of NFL football players; then he has for the well-being of the citizens he is sworn to uphold.
Welcome to the new normal!
Thankfully, KXNG Crooked's Good Vs Evil 2: The Red Empire picks up right where its predecessor left off. On the surface, Good Vs Evil 2 is the epitome of woke; a politically and socially conscious decree that demands to be heard and processed.  At its core, it's designed to be the theme music that Colin Kapernick and a generation can proudly knell to.
While Trump is busy adding to his portfolio by peddling pumpkin MAGA (Make America Great Again) hats, Crooked's "The MAGA Continues" examines the other side of the catchphrase that 45 used as his campaign slogan; one that has further empowered law enforcement that "used to kill us in the dark, now they just do it in the light."