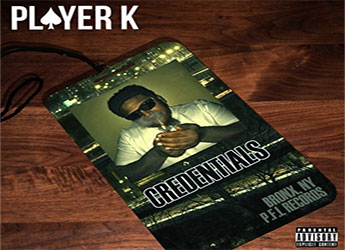 Player K debuts on SpitFireHipHop with 'Credentials' featuring Dukes.
In an ongoing battle with the South, New York's perseverance and never-ending pool of talent has been leading the birthplace of Hip Hop's resurgence. South Bronx upstart, Player K, let's us know who he is and why he's a new force to be reckoned with on his introductory single. The former high school football star picked up a pen and microphone as his budding sports career earned him a college scholarship to play for Buffalo State.
Despite the hardships of being put into the foster care system as a child – which had him moving back-and-forth between New York and Georgia – Player K, stayed resilient. And it's evident in the confidence he radiates in his music and in his relentless work ethic. To jumpstart the closing quarter of 2017, Player K, fuses NYC's grit with smooths samples from Mac Miller's "Good Evening" on 'Credentials' featuring Dukes. As you know, it's all about credentials in the industry, and Player K is slowly building his up.