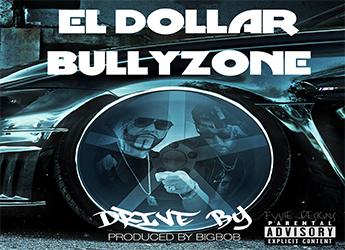 El Dollar debuts on SpitFireHipHop with 'Drive By' featuring BullyZone.
"Drive By" isn't your typical BigBob produced track. This track is different. Why? Because this track exclusively showcases Canadian hip hop artists, El Dollar and Bullyzone respectively both from the nations capital, Ottawa. This track demonstrates producer BigBob 's innovative form and function is capable of head grooving, arms in the air and hips rocking. El Dollar's provocative lyrics declare a prominent presence celebrating life's excesses and successes.
To push the song a bit further, Bullyzone accelerates hard, displaying poetic and cunning lyrics to clarify their corresponding roles in the game. This Canadian representation to the hip hop landscape proves to be the new classic track for the late night drive on the busy streets or the lonely interstate highway cruise.