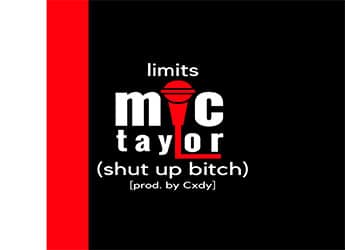 Mic Taylor drops off his new single 'Limits'.
Drawing comparisons to the likes of Kanye West, Nas, Kendrick Lamar, and other noteworthy emcees, Mic Taylor has brushed shoulders with legends. From sharing the stage with established superstars such as Big Sean, Killer Mike, and Phife Dawg to performing with up-and-comers such as Noname, D-Low, and (once upon a time) Chance the Rapper, Taylor has come a long way from Chicago's Altgeld Gardens housing projects. Recording and releasing his first tracks in the 7th grade, Taylor's drive is one of his most noted qualities amongst his peers. Taylor's first official project, Write-N-Wrongs, was met with high praise in Chicago and abroad.
Since then Taylor's has several projects, his latest being 'Only God Knows'. Throughout his music, Taylor boasts his melodic and soulful style, touting his Chicago roots, while also displaying a mastery of the English language. While some of his bars are so complex, Taylor always remains easy to relate to. Through references to pop culture, street culture, an endless barrage of witty jokes, and ultimately telling his truth, Taylor becomes more than a rapper to listeners – more of a distant cousin or homie that you haven't seen a while – but you're sure to see him on a big screen soon. Listen to 'Limits' below.