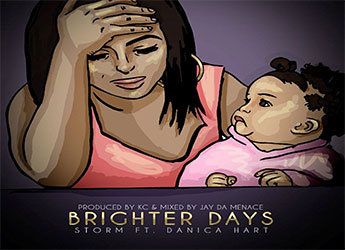 Storm returns with a strong message in this new single titled 'Brighter Days'.
It isn't often in this day and age that we hear mainstream songs that touch not only the heart, but the soul – however this is exactly the reaction the song entitled "Brighter Days" elicits from listeners.
Femcee Storm always commands a certain amount of reverence when she grabs the mic. Combine her presence with that of R&B songstress Danica Hart, and you have the formula for an amazing single. Add to that creation a topic that has too often been deemed taboo – Post-Partum Depression – and you have not only a hit single based on audio alone, but you have a dynamic piece of art that may have helped countless people begin healing.
Many do not even realize the existence of a real and often times, completely devastating and life changing medical condition called Post-Partum Depression.  It is believed to be the cause of severe depression and even suicides in mothers when it goes undiagnosed or is untreated.  Movements are in place now to educate people on the dangers of this condition, but the word may not be getting out quickly enough.
Enter Storm, a mother to a beautiful 6-year old son, who wrote this song based on her own experience with the condition. After winning a battle against the condition and starting her non-profit, Storm decided that one of the ways she would give back is through educating others on Post-Partum Depression. "Brighter Days" was born from that idea. Storm is often a guest speaker at women's empowerment events, as well as for medical societies that focus on Post-Partum Depression educational based events. She is using her celebrity to make certain other women and their friends and family members know of this real, potentially debilitating condition and that they are aware help is available. And "Brighter Days" definitely gives hope, as it is a beautiful song that is relatable and uplifting.
"Brighter Days" was produced by KC and was mixed by Jay Da Menace, both award winning musicians in their own right. Though Storm's music is well-known for always containing a solid message or two, this particular single is as close to her own heart as it possibly can be. It is available for download and streaming on all major platforms and it distributed by Empire via Starvin Lion Entertainment.