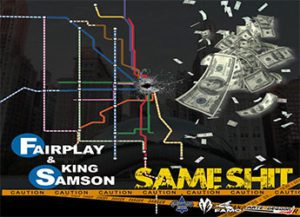 Fairplay drops off his new single 'Same Shit' featuring King Samson.
Fairplay is one of the most underrated MC's in Chicago, period. He continues to improve his craft, drops gems, and builds an organic fan base. After a successful compilation tape and two strong loosies, he's back with his most heartfelt track yet. 'Same Shit' is a no smoke behind mirrors look into Fairplay's daily dealings.
Through a laid back but still captivating flow, the Chicago rapper shows us that the city is more than what you see on the news. Anyone can rap about the struggle, but it is the talented MC who can go beyond facts and bring his soul into every line. Featured artist King Samson brings his own perspective at the tail end of the track, making Same Shit a refreshing display of honesty, vulnerability, and skill.