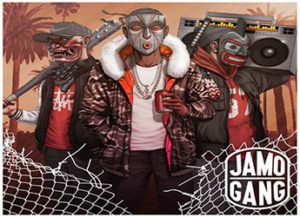 Jamo Gang drops off their new single 'All Eyes On Us'.
Ahead of the release of Jamo Gang's self-titled EP, the group (MCs El Gant and Ras Kass and producer J57) have shared the first leak from the project; which was premiered today by HipHopDX. Entitled "All Eyes On Us," the track comes with an explosive feature from Brown Bag All-Stars' DeeJay Element.
The Jamo Gang EP is expected to arrive on January 30 and comes with a bonus track from DJ Premier who originally co-signed the East Coast trio.
Check out "All Eyes On Us" and the EP's tracklist below.
Preset with id 0 does not exist!Main playlist with id 568 does not exist!
The 'Jamo Gang' EP Tracklisting With Credits:
'This is Jamo Gang'
'Go Away'
'Straight No Chase'
'Here We Go Again' feat. Big Twins
'All Eyes on Us' feat. DeeJay Element
'Welcome to the Golden Era'
'Jamo Gang' feat. Shabaam Sahdeeq
'The Altar' feat. Snak the Ripper
***All Tracks Produced by J57