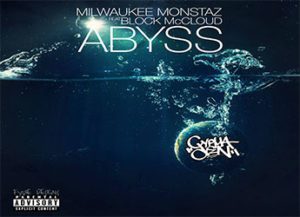 Milwaukee Monstaz drop off their new single 'Abyss' featuring Block Mcloud.
For the last single to drop before the self-titled Milwaukee Monstaz album, the Monstaz link up with AOTP hook master and Brooklyn Academy bar smith Block McCloud. This time Block is not mastering the hook game, on 'Abyss' he is dropping bars.
The song starts out with witty lyrics by Taiyamo Denku. He passes the torch to Block and Maximus brings the song home with his unique style. The production on the track is handled by Australian Beat Hitter Dcypha. Go and listen to Abyss.