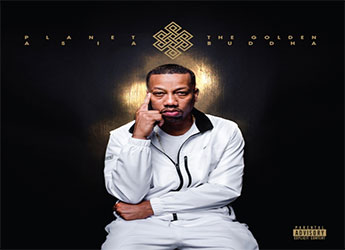 Planet Asia's 'The Golden Buddha' drops tomorrow as he releases 'Fast Not Slow'.
The Fresno MC is fresh off of a strong 2017 which featured well-received collaborative albums with producers DirtyDiggs (Dirty Planet) and Apollo Brown (Anchovies). For 2018, Asia teamed up with Bay Area producer izznyce for a true solo project, The Golden Buddha, sure to be considered the next classic in his vast catalog.
The Golden Buddha was produced entirely by izznyce (producer for Superstar Quamallah and more) and features AZ, Hus Kingpin, Turbin, Marvelous Mag, Killa Kali, TriState, Xiomara and The Architect.
Today, Planet Asia releases the last leak from the project, "Fast Not Slow," before it is available at midnight.  "Fast Not Slow" features an appearance by the legendary AZ.