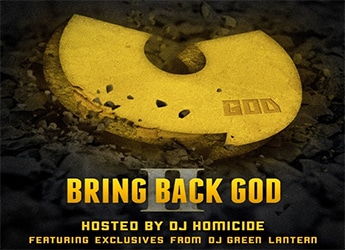 U-God drops exclusive "Ghostface Killers" freestyle Over 21 Savage/Offset/Travis Scott/Metro Boomin banger.
Renowned Wu-Tang MC, U-GOD, unleashes his inner savage on his latest freestyle, "Ghostface Killers." U-God skillfully flows over the gritty instrumental from 21 Savage, Offset & Metro Boomin project Without Warning (which also featured Travis Scott), with rapid-fire lyrics reminiscing on his come-up from the slums of Shaolin to his present-day status as a Wu-Tang legend. "Ghostface Killers" is the latest release from U-God following the DJ Green Lantern remix of "Fire" featuring Method Man and U-God's Wu-inspired tribute to Cardi B's smash hit entitled "Wu-Dak Yellow."
The "Ghostface Killers" freestyle can also be found on U-God's upcoming mixtape featuring remixes by The Evil Genius DJ Green Lantern (hosted by DJ Homicide) entitled Bring Back God II, which drops this Friday 2-2-18 on DatPiff. Bring Back God II serves as a prelude to U-God's highly-anticipated forthcoming album, Venom, which is slated for worldwide release on 3-30-18 via Babygrande Records.
Pre-Orders for U-God's explosive new book, Raw: My Journey into the Wu-Tang, which will be released on March 6.