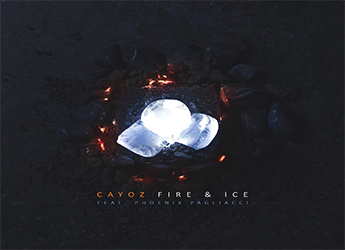 Cayoz Da Emcee returns to SpitFireHipHop with 'Fire & Ice' featuring Phoenix Pagliacci.
Representing Oceanside, California and steadfast member of The Animal Gang Collective is Cayoz Da Emcee who is cut from the cloth of traditional rhyme wreckers who bring raw passion and poignant lyricism over hard edge production. Produced entirely by DJ Rek his upcoming LP, Pressure Makes Diamonds features heavy hitters such as Sadat X, Rockness Monsta (of Heltah Skeltah), Mic Handz, Senica Da Misfit and more.
His latest work, "Fire & Ice" featuring the vocal prowess of Phoenix Pagliacci contrast the elements of both toxic and nourishing relationships over fellow Animal Gang member O*Zee's mammoth track. Things get filthy from the ground on up on the Cool FD produced, "Ghost & The Darkness" as Cayoz and his ace UnReal form the duo, Unyousual Suspectz to throw some lyrical darts.
Preset with id 0 does not exist!Main playlist with id 575 does not exist!