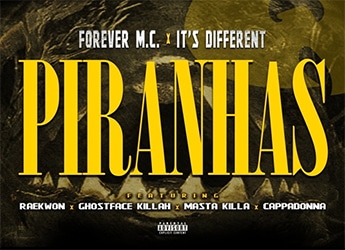 Forever M.C. connects with Wu-Tang Clan on new single called 'Piranhas'.
The Emcee and Production team of Forever M.C. and It's Different have joined forces with some of Hip-Hop's most elite artists in the game to bring the world the unprecedented soundscape for the 3-30-18 release of Forever M.C. compilation on RBC Records.
After two all-star posse cuts, "Terminally Ill" and "King Kong,' Forever M.C. & It's Different present the third single from their forthcoming Forever M.C. Compilation; "Piranhas" featuring the Wu-Tang Clan (Raekwon, Ghostface, Masta Killa & Cappadonna).  No biting allowed! Listen to 'Piranhas' below.
Pre-orders for Forever M.C. are now available at iTunes, purchase now and receive "Terminally Ill," King Kong" & "Piranhas" as instant grat tracks: https://itunes.apple.com/us/album/forever-m-c/1343905880