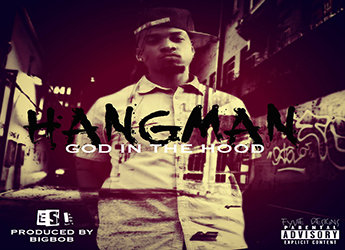 HangMan debuts on SpitFireHipHop with 'God In The Hood' produced by BigBob.
You don't have to wait too long for another ambitiously produced BigBob track. 'God In The Hood' featuring Hangman of Pottersfield displays BigBob's signature distinct, dark beats, continuously creating and manifesting his value to hip hop music. Hangman is a compelling storyteller.
Linguistic recollections are recounted with a flowing versatility seamlessly intertwining with daunting beats, adlibs and psychedelic sound effects. Hangman's mortality is on his mind, sounding reflective as well as conjuring his link to the Most High by reciting the name of God's different aspects. BigBob stays true to his vision of creating an expressive space for hip hop artists and music lovers alike to enjoy originally crafted music.