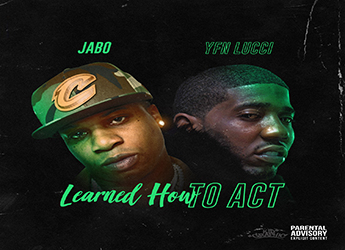 Jabo connects with YFN Lucci on his new single 'Learned How To Act' produced by KWD$.
The stars are starting to align for Birmingham born rapper Jabo, who's currently chasing out his dreams in
Atlanta. Already creating a movement down South, having worked with artists like Yo Gotti, Jadakiss, Slim Thug and more, the next wave of singles is being geared up to release.
Since releasing "Water Whippin" featuring Young Scooter back in February, Atlanta hot spots like Blue Flame, Follies and Onyx have been constantly having the single in rotation, and listeners have reacted positively online where the single currently has amassed over a half million streams.
Next up out the vault is 'Learned How To Act' featuring YFN Lucci, produced by KWD$. And Jabo told
Billboard Magazine that this was a spur of the moment record.