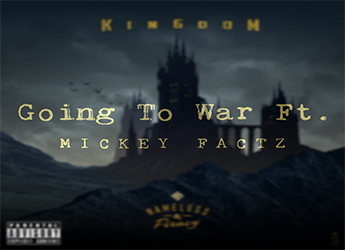 NameLess and Piracy return with 'Going To War' featuring Mickey Factz.
Toronto rap artists NameLess and Piracy present "Going To War", their new single featuring Mickey Factz, which appears on Kin6dom, their new album also featuring Marvwon, Ness, Chilla Jones, Quest Mcody, and Cambatta.
"Going To War" comes on the heels of the release of "Happy New Year" featuring Detroit rapper Marvwon, who recently collabed with the Canada duo on the Elevation full-length. NameLess & Piracy released their first mixtape Wake Up Call in 2017, and recently released the Groundwork EP featuring X from teambackpack and Ness Lee. "'Going To War' is a track where we wanted to display that our ability to rap is good enough to stand with some of the best MCs on the planet," NameLess says.
"Hip hop was built around competition, trying to be the greatest, and we're doing all that we can to bring that feeling back. A rapper like Mickey Factz has never lost that sense of competition, so he was the perfect addition for that track."