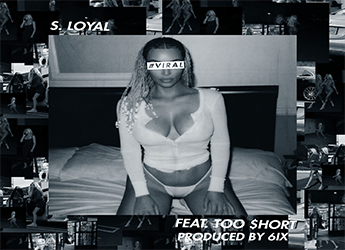 S.Loyal drops 'Viral' (Break The Internet Remix) featuring the legondary Too $hort.
Portland artist and Trap Kitchen affiliate S.Loyal is wasting no time making a splash in the game. After recently releasing his infectious single "Trapping Is A Hobby," S.Loyal reconnects with producer 6ix but this time they add the Bay Area Legend, Too $hort to the mix.
As raunchy, raw, and rugged as you would expect to hear Short in 2018, you can tell with one listen S.Loyal comes from the same school of pimping. As a distant cousin to The Bay Area, 6ix also a Portland representative, provides the perfect soundscape for $hort Dog to talk his shit and sound right at home on the track. With the official video coming soon, stream/purchase S.Loyal's new banger "Viral" (Break The Internet Remix) ft Too Short produced by 6ix.