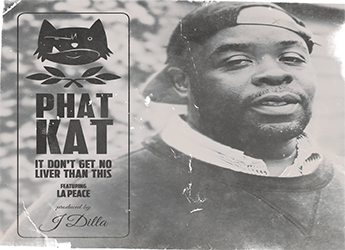 Phat Kat connects with La Peace for 'It Don't Get No Liver Than This' produced by J Dilla.
Detroit MC Phat Kat drops an unreleased track produced by J Dilla and featuring La Peace, to announce the reissue of his 2007 "Carte Blanche" album.
Phat Kat says: "We decided to re-release the "Carte Blanche" album because it was put out right before the internet blew up, so it never really got to a lot of listeners. And it was a really good project that slipped through the cracks. It came together during the time me and Dilla were signed to Payday Records, but when the label folded we never got a chance to record a full album. We recorded "It Don't Get No Liver Than This" for the 1st Down album but the label folded and it didn't come out."
Originally released in 2007, Phat Kat's 2nd studio album "Carte Blanche" is getting a re-release on July 27th via Below System Records. The deluxe edition will includes 2 new bonus tracks both produced by J Dilla.
"Carte Blanche" includes production by J Dilla, Black Milk, Young RJ, Nick Speed and features by Elzhi, Black Milk, Guilty Simpson, T3 and more. The 2 Dilla produced bonus tracks "World Premier" and "It Don't Get No Liver Than This" with a featuring by La Peace, were recorded in 1996 and 1997.