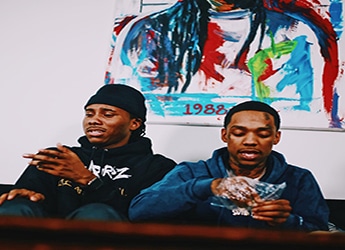 StarrZ and President Davo connect for this new 'Layup' single.
Hailing from the Eastside of Baltimore is not one of the easiest of tasks, but rapper StarrZ looks to bring hope to a city that is often overlooked. Being victorious on Oxygen's reality show Last Squad Standing, and the host of Fuse TV's Weekly News Rap has given the young star in the making the confidence needed to continue pushing forward with his talents.
The latest release "Layup" featuring President Davo, off of their joint album aptly titled Layups, is a record that will instantly pump you up but also gives listeners a glimpse at the scary reality many Baltimore residents have to face on a daily basis.
Within the opening bars you hear, "I'm from a place where they shootin' and they killin' outside so I'm strapped when I layup." With President Davo from the opposite side of Baltimore, on the Westside, he's echoing the same sentiments as StarrZ on the hook.