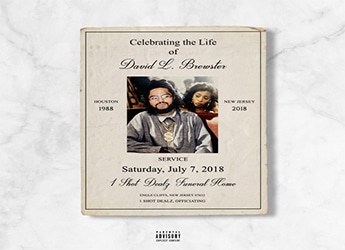 1 Shot Dealz responds to Dave East with this new single 'R.I.P David L Brewster'.
As the Summertime mercury rises it makes some heat up as well. A few days ago Dave East who released a diss track aimed at Bronx artist Tray Pizzy. While going at Tray Pizzy, Dave East mentioned 1Shot Dealz in one of his verses. In the verse he says "and tell your little homie 1Shot Dealz to get off my d*ck."
Well, 1 Shot Dealz did not take kindly to this of course. Dealz drops this single 'R.I.P David L Brewster' today in reponse. The single starts with 1Shot Dealz shooting wholes in Dave East's story of being born and raised in Harlem. Dealz says that nothing about Dave East is official and says that he (East) is acting Dominican.
1 Shot Dealz says that East was born in Lake Charles, LA and then moved to Atlanta and that he took Snoop Dogg to the hood at 4am. Dealz ends the single by says Houston, Texas, New York and a few other places should be ashamed of Dave East.