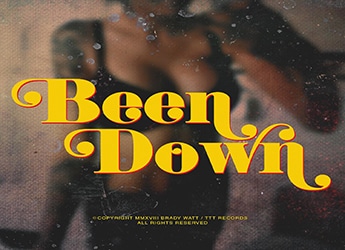 Brady Watt is back with 'Been Down' featuring Dru Oliver and Fat Tony.
The arrow for Brady Watt's 2018 is already pointing up. After joining Talib Kweli and BJ The Chicago Kid for a performance of Kweli's "The One I Love" on the Stephen Colbert show in support of his Radio Silence album and recently headlining gigs at the legendary Blue Note in NYC and performing at LA's famed Low End Theory club (which has been a launch pad for artists such as Daddy Kev, Flying Lotus and many others), Brady was also featured on PRhyme 2's (DJ Premier & Royce 5'9's) new project (appearing on the albums closing track "Gotta Love It" which also featured Cee-Lo) which recently reached #1 on the iTunes Hip-Hop Chart.
After collaborating with Ro James & Topaz Jones on the Billboard premiered "Black & White," Brady Watt returns with his new single, "BEEN DOWN," alongside his guests Dru Oliver & Fat Tony who deliver a very soulful rendition of bass lines & heartbreaks.
With Brady handling all of the instrumentation (and background vocals), Dru Oliver (known for his work with SZA, Kehlani & Fetty Wap) and Fat Tony (from Houston's Third Ward, Tony has released four albums and appeared on A$AP Rocky's "Get Lit," Das Racist's "Luv It Mayne" & Heem's "Bangles") go from being loyal day one's to growing increasingly wary of deciphering codes ("peep how I speak, there's no gray"), being finessed and unreciprocated energy.
'Been Down' is just that; being down (no matter what)! But, you can be loyal to someone for a long time and find out the real truth is that they are bringing you down" Brady professed. "Sometimes you have to move on; even though it hurts incredibly bad. I was getting over a situation like this when we recorded this track."