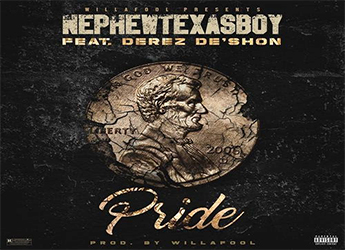 Will A Fool drops 'Pride' featuring Derez Deshon and Nephew Texasboy.
"Pride" is the first record to drop off Will A Fool's upcoming EP of exclusive records. The project, which currently doesn't have a title is slated to drop later this summer and will consist of approximately 8 tracks.
Most recent production credits from Will A Fool include: the record "Show My Chain Some Love," by Future featuring Young Thug, which was featured on the Superfly movie soundtrack. The record "Warzone" featuring Future on DJ Esco's Kolorblind album and the hot lead single off of Lil Durk's project, Just Cause Yall Waited, titled "How I Know" featuring Lil Baby.
Keep an eye-out for additional music, exclusive records and content from Will A Fool in the coming months, as well as an announcement regarding a drop date for his upcoming EP.