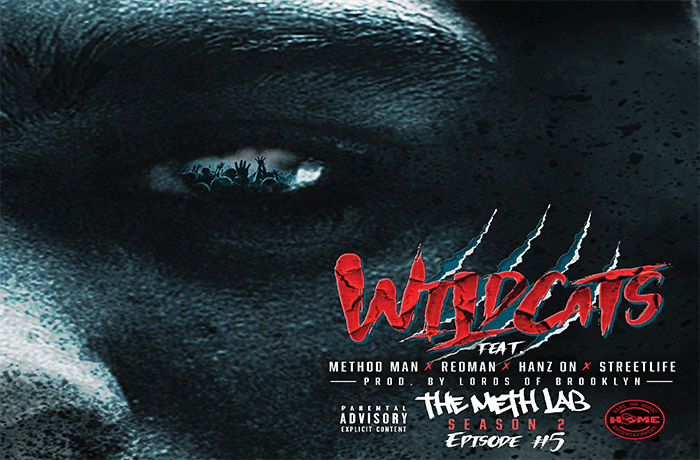 Method Man releases 'Wild Cats' featuring Redman, Streetlife and Hanz On.
Following on from lead single 'Grand Prix,' debuted back in August, Method Man has unveiled another cut from his new Meth Lab project The Meth Lab II: The Lithium in the form of 'Wild Cats.'
Whereas 'Grand Prix' was one of only two solo Method Man tracks, 'Wild Cats' features Wu Tang affiliate Redman, alongside Hanz On, whose label Hanz On Music Entertainment will release the upcoming project, and Streetlife, who has previously collaborated with Method Man on his solo records and on Wu Tang Clan albums.
'Wild Cats' has a distinctive, 90s hip hop beat, but is overlayed with a looped, fizzing electric guitar riff as Meth, Redman, Hanz On and Streetlife swap verses throughout.
The Meth Lab II: The Lithium was recorded in Meth Lab Studios on Staten Island and will be released via Hanz On Music Entertainment (H.O.M.E.) / ONErpm on December 11th.
'The Meth Lab II: The Lithium' Track Listing:
The Pilot – Intro
Episode 1 – Kill Different (Hanz On & Raekwon)
Episode 2 – Eastside (Intel & Snoop Dogg)
Commercial Break (Thotti Gotti)
Episode 3 – Grand Prix
Commercial Break (Impractical Jokers Pranks)
Episode 4 – Drunk Tunes (Noreaga, Joe Young, Mall G, Jessica Lee Lamberti, Deanna Hunt)
Emergency Forecast (Thotti Gotti Weather Report)
Episode 5 – Wild Cats (Redman, Streetlife & Hanz On)
Episode 6 – The Lab (Spank)
Episode 7 – Bridge Boys ( Roc 'Heltah Skeltah' & Kash Varrazano)
Episode 8 – Back Blockz (Freak, Cardi Express & Youngin)
Episode 9 – Ronin's (Hanz On, Cappadonna & Masta Killah)
Commercial Break (Impractical Jokes "Torture")
Episode 10 – Two More Mins
Commercial Break (Thotti Gotti "Pussy On Soundcloud")
Episode 11 – SI Vs. Everybody (Apocalipps & Iron Mike)
Episode 12 – Lithium (Sheek Louch & Hanz On)
Episode 13 – P.L.O. Remix (Hanz On, Hue Hef, Streetlife & Lounge Lo)
Episode 14 – Killing The Game (Pretty Blanco)
Episode 15 – Yo (Hanz On, Streetlife & Apocalipps)
Outro