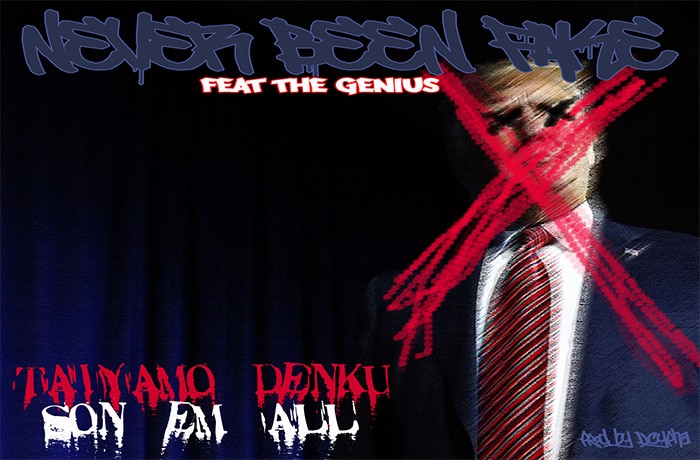 Taiyamo Denku & Son Em All connect with The Genius on 'Never Been Fake' single.
Two Milwaukee native emcees collaborate together to give you a new single "Never Been Fake" The Hook of the song is crafted by the Boston native RnB voice of The Genius. Being fake or telling fiction in music , life , opinions and ideas tends to be a wave that a lot of people seem to follow. Denku and Son Em All put a song together telling you that being that way is not how you should be. Denku creates the idea in his verse clever and lyrically of who and what he does.
Son Em All does the same with a blend of a regular flow to chopper style. The two then come together for a back and forth verse in which they trade creative wordplay to get the never been fake idea across. The Genius places his signature voice well to the beat, he and Taiyamo Denku have collaborated on many previous songs since the CyphaDen brand has been established. The whole tracks canvas is created by australian beatsmith Dcypha.
This is a freebie single that Denku and Son Em All are releasing before announcing and finishing their upcoming duo EP that is yet to titled. Look out for that in 2020 which will be produced by German producer Bo Faat who Denku has started to work closely with on upcoming music including his last loose single with Rec Ali called Atlas's Plan. give the new single "Never Been Fake" a listen below.