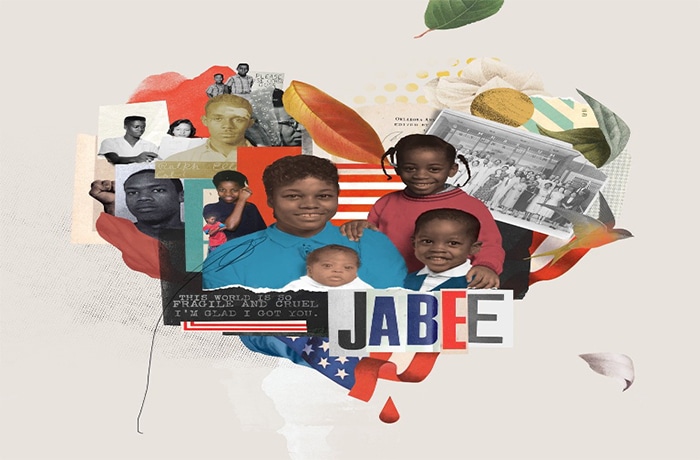 Jabee connects with Lil B The Based God and Slug on his new 'Checmate' single produced by Statik Selektah.
Jabee is a Emmy Award winning rapper from Oklahoma City whose music, according to Chuck D. from Public Enemy, "has the potential to change the world."
Jabee has toured with Run the Jewels and Murs, and has been featured on Sway in the Morning, MTV, XXL, Complex, The Source and Vibe. He has also performed at Kevin Durant's celebrity basketball game and Russell Westbrook's celebrity comedy show. In 2014, Jabee collaborated with Oklahoma City-based marketing agency Funnel Design Group to create, "What If?" a television commercial promoting Science Museum Oklahoma. The video won an Emmy for commercial writing and performance.
2020 is shaping up to be a very big and exciting year for Jabee as he preps the release of his new album This World Is So Fragile and Cruel I'm Glad I Got You. The project features feature production from Grammy Award winning producer Symbolic One 88 Keys, Statik Selektah and also guest appearances from Wale, Slug (atmosphere) and Lil B ThaBasedGod
With the announcement of his new album, Jabee also released the projects first single "Checmate," which features Slug and Lil B. The track is produced by Statik Selektah.
"The concept for "Checmate" really came from Lil B. I was in NY at Statik's s studio and heard the beat. I did my verse and sent it to Lil B to peep and what he sent back really changed the direction of the song" Jabee recalled. "At the same time I was also talking to Slug about a track and he really liked the Statik beat and it all came together from there. I identify with both Slug and Lil B in different ways and that duality really shines
This World Is So Fragile And Cruel I'm Glad I Got You Tracklisting:
The Mirror feat. Propaganda [prod. By Rnd 1]
Recipe [prod. by 88 Keys]
Clic [prod. By Smitti Boi]
No Allegiance [prod. By Smitti Boy]
We Got It feat. Wale [prod. By Leron Vision]
Food For Thought feat. Medaforacle [prod. By Paul Cabbin]
Fragile and Cruel feat. The Allie Lauren Project [prod. By Lauren Nicole Clare]
Hope [prod. By Blev]
Checmate feat. Slug & Lil B The Based God [prod. By Statik Selektah]
Birth Name [prod. By Smitti Boi]
Hold Up [prod. By S1-Symbolic One]
Our Sons feat. Trishes [prod. By Statik Selektah]
Hands Up [prod. By Smitti Boi]
Gotta Get To Heaven feat. The Allie Lauren Project [prod. By Lauren Nicole Clare]