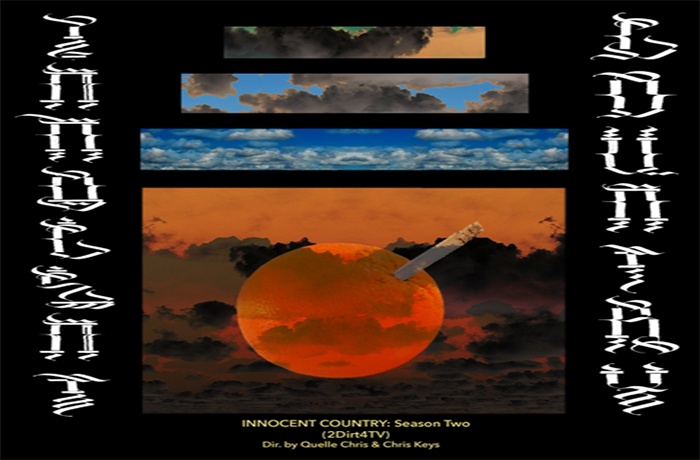 Quelle Chris connects with Earl Sweatshirt, Denmark Vessey, Big Sen and Merrill Garbus for his new 'Mirage' single.
If now's the time for voodoo amulets and protective talismans, sharpened swords and unbreakable shields, it's also a moment for music to assume its highest form as a healing art, a source of benevolent spells, and a refuge from the chaos. After all, the best creators are always those that tap into the telluric current that exists below the surface. Those who delve into the collective unconscious so that timeliness is a happy accident; timelessness was always the intent.
If Quelle Chris and Chris Keys' Innocent Country 2 sounds like an antidote for a moment of surreal anxiety, the same could be said of it a decade from now. It's an album best understand in a dialogue with the first volume of the series. Released in 2016, the initial Innocent Country focused on isolation, pessimism, and the notion of finding peace within pain. At a time when those feelings convey the mood of the moment, Quelle and Keys have responded with a soundtrack that offers soothing light in a bleak timeline. A hopeful record in a hopeless moment, precisely when it's needed most.
The country that Quelle describes is presented in both the individual sense and as a whole, a nation whose hands are stained with blood. It's about recognizing the complexity of our fractured identity, the good and evil that most of us contain, our ability to acknowledge, grow, heal, help, communicate, live, and learn from one another. It is a subtle and soul-reviving record that reveals its depth in layers and repeated listens. An organic and preternaturally funky album that could've emerged from Electric Ladyland Studios during the peak of the Soulquarian movement, yet feels distinctly contemporary. A long-lost Slum Village record excavated from the vaults, except it could only come from Quelle Chris and Chris Keys.
With Innocent Country 2 only a few short days away from release, Quelle liberates one last single, "Mirage, which was exclusively premiered by Fader.  "Mirage" features Earl Sweatshirt, Denmark Vessey, Big Sen & Merrill Garbus.
"Mirage" was one of the first songs Chris and I started last year and also one of the last we finished. I knew we needed Earl, Den, Merrill and Sen early on" Quelle commented to Fader. "I couldn't have imagined how timely the song would be when we finished it, or the amount of times I'd by the time I reached the end of Denmark's verse.  I knew the words would ring true, but didn't expect them to resonate at such high frequencies only half a year later. But here we are. The "Mirage," where what is "known" to be and visions once reserved for the "crazy" collide."
Quelle Chris' Innocent Country 2 will be released on April 24 via Mello Music Group.