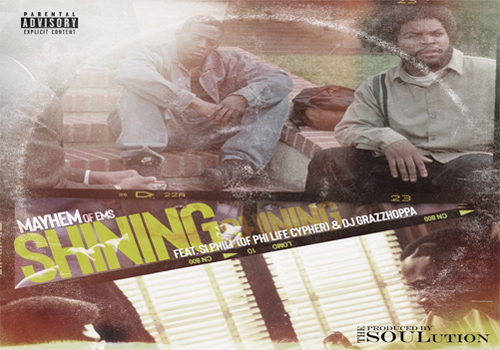 Mayhem (of EMS) drops new single, "Shining" featuring Si Phili and DJ Grazzhoppa.
Beantown rhyme slinger Mayhem (of EMS) links back up with UK legend Si Phili (of Phi Life Cypher) and master turntable specialist DJ Grazzhoppa over a menacing synth layered boom bap backdrop provided by Ugly Pitch Records very own The SOULution, to clearly show you no matter what they stay "Shining". 
Shining serves as the 1st single off of Mayhem's collabrative effort " Singleton With A Pen" entirely produced by The SOULution. Everything from the album's title , supporting artwork ( Single art & Album art) , interludes and song subject and themes serves as an ode to the late legendary film director and movie producer John Singleton. 
Singleton With A Pen starring Mayhem (of EMS) and The SOULution costaring in order G Fam Black, Si Phili, DJ Grazzhoppa, Maree Lawn, Weapon ESP, Vic Monroe, and Don Streat coming to audio theaters near you via Bandcamp October 16.  (Preorder NOW) and released via all other audio theaters (streaming services) October 30.