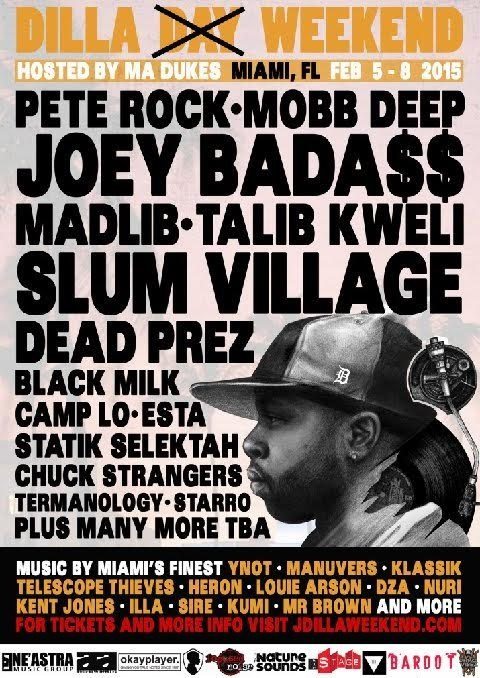 Don't call it a comeback, they been here…you know how the rest goes.  Trials, tribulations, death, staff changes have all factored in to Slum Village's past and present.  Throughout it all, SV has always persevered as only they can.
While it may not have been a "comeback," Slum Village's Yes! (2015) was certainly a return to greatness for the revered Detroit collective.  Yes! garnered massive press, with premieres from Complex, Billboard, XXL, Pitchfork and Rolling Stone.  Almost entirely produced by J Dilla, with huge contributions as well from Young RJ (who will be releasing his solo-debut this year under his new moniker Blaq RoyalT) and featuring guest appearances from De La Soul, Jon Connor, Phife, Black Milk, BJ The Chicago Kid, Bilal, Illa J & J Ivy, the overwhelming response for Yes! from critics and fans alike completely rejuvenated the triumvirate and will usher in the next wave of music from SV (who after spending a chunk of 2015 on the road with him, are currently working on a joint project with Pete Rock).
The late, great J Dilla is rightfully praised as one of the best hip-hop producers ever and Slum Village is one again proud to be headlining this years "Dilla Day" celebration.  Almost exactly a decade after his death in 2006, Dilla's mother, Ma Dukes, continues to honor her son's life and legacy.
The yearly "Dilla Day" event to honor Dilla's legacy has become such a revered staple in the culture, that the demand for it has now turned "Dilla Day" into a weekend long-retreat.  2016's "Dilla Day Weekend" will take place once again in Miami, Florida from February 5th thru February 8th.  Special guests slated to perform at this weekend's festival include Slum Village, Black Thought, Bun B, DJ Premier, Royce Da 5'9," Jay Electronica, Black Milk, 9th Wonder, Pete Rock, Joey Bada$$, Mobb Deep, Talib Kweli, Madlib, Statik Selektah, Rapsody, A-F-R-O, Camp Lo, Diamond D, Dead Prez; plus many more still to be announced guests and surprises.
In addition to performances from high-profile artists and DJs, J Dilla Weekend also features producer panels, BBQs, photo/art exhibits, and other events celebrating Dilla's life and legacy.  This year also features an official Dilla Record Exchange sponsored by Discogs.
In addition to headlining Dilla Day Weekend 2016, Slum Village is also announcing a new world tour, The Kings Court Tour, with Black Milk, Guilty Simpson, Phat Kat and Blaq RoyalT (the artist formerly known as Young RJ).  The Kings Court Tour kicks off in Europe on Tuesday February 9th and they will kick off the US leg of the world tour in Tucson, AZ on March 22nd 2016.
European Tour Dates (Slum Village Only):
2-9-16– Bristol, UK (Colston Hall)
2-11-16– Newcastle, UK (Hoochie Coochie)
2-12-16– London, UK (Brooklyn Bowl)
2-13-16– Brighton, UK (Patterns)
2-14-16– Moscow, Russia (Sciene & Art)
2-17-16– Nantes, France (Le Ferraleur)
2-18-16– Liege, Belgium (Live Club)
2-19-16– Vienna, Austria (Porgy & Bess)
2-20-16– Dublin, Ireland (Sugar Club)
2-25-16– Rome, Italy (Akab)
2-26-16, Milan, Italy (Biko)
2-27-16– Biel, Switzerland (La Coupole)
2-28-16– Paris, France (Davin De Monde)
The Kings Court United States Tour Dates (Slum Village, Black Milk, Guilty Simpson & Phat Kat):
**Additional dates being added
3-22-16– Tucson, AZ
3-23-16– Los Angeles, CA
3-24-16– Fresno, CA
3-25-16– San Francisco, CA
3-26-16– Palm Desert, CA
3-28-16– Sacramento, CA
3-29-16– Eugene, OR
3-30-16– Portland, OR
3-31-16– Victoria, WA
4-1-16– Bellingham, WA
4-2-16– Seattle, WA
4-5-16– Grand Junction, CO
4-6-16– Denver, CO
4-7-16– Lawrence, OK
4-8-16– Tulsa, OK
4-9-16– Iowa City, IA
4-10-16– Omaha, NE
4-12-16– New Orleans, LA
4-13-16– Chattanooga, TN
4-14-16– St. Louis, MO
4-15-16– Chicago, IL
4-17-16– Detroit, MI
4-19-16– New York, NY
4-21-16– Boston, MA
4-22-16– Burlington, MA
4-24-16– Washington, DC
Purchase tickets to Dilla Day Weekend 2016 In Miami: https://www.squadup.com/events/dilla-day-weekend