Who Are Tha Alkaholiks – Feature-length Documentary Coming Soon
The feature-length documentary film, "Who Are Tha Alkaholiks", is currently wrapping principal production and is set for both dom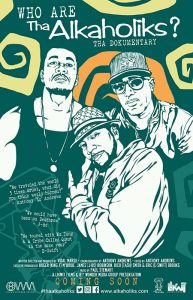 estic and international release in Spring 2017. The film, which profiles the career of underground, iconic rap trio, Tha Alkaholiks-Eric "E-Swift" Brooks, Rico "Catastrophe pka Tash" Smith and James "J-Ro" Robinson-will make a splash during festival season and will be accompanied by a soundtrack featuring new music from the group.
Tha Alkaholiks name is synonymous with the 90s golden era of hip hop. The three rappers from Southern California were at the forefront of the genre's shift from rebellion, including a contentious relationship with police, to more light-hearted, party centric content. This turn of the corner was not without its controversy. Along with feel good music and an inspirational look at how they survived the highs and lows of the industry, "Who Are Tha Alkaholiks" will explore how the group's crossover success and multicultural fan base drew criticism in hardcore hip hop circles, ultimately resulting in a polarizing brand.
"Viewers will be treated to the ultimate backstage pass with hilarious stories from industry friends and family and never before seen footage," said Vidal Marsh, the film's producer who is also making his directorial debut with this project under his 8th Wonder Media Group banner. "This group has 20 years of touring under its belt and helped launch the solo careers of hit makers Xzibit and Madlib. It's time for their story to be told."
It is time indeed. In the recently aired BET series "Inside the Label: Loud Records", Tha Alkaholiks are credited with the first breakout hit and as the first charting artists for the, then, fledging rap label.
In addition to Marsh, the film is being produced by Anthony Andrews for Likwit Entertainment and is being Executive Produced by Tha Alkaholiks and Roger "King T" McBride. A trailer is available for preview at here.