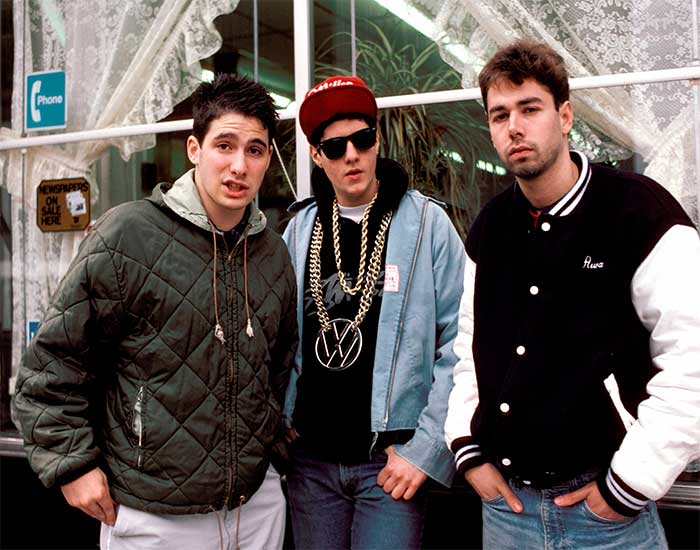 Beastie Boys' First Album, 'Licensed to Ill' Turns 30
On Nov. 15, 1986, the Beastie Boys released their debut album, Licensed to Ill. Nearly four months after its release, Licensed to Ill knocked Bon Jovi's Slippery When Wet from the top of the Billboard album chart to become the first rap album to ever hit #1. And it stayed on top for seven weeks.
Prior to the Beasties' breakthrough, hip-hop had been slowly creeping into the mainstream consciousness from its inner-city roots. Seminal hip-hop records like the Sugarhill Gang's "Rapper's Delight," Grandmaster Flash & The Furious Five's "The Message," and Run-D.M.C.'s "It's Like That" were all hits, but stalled on the mainstream pop chart, as did the albums that birthed them.
What many do not know is the Beastie Boys actually began as a punk band, inspired by hardcore groups such as Black Flag. Formed from the remains of the Young Aborigines, the Beasties' first lineup included Mike Diamond on vocals, Adam Yauch on bass, drummer Kate Shellenbach (who would go on to become a member of Luscious Jackson), and guitarist John Berry. They released the Polly Wog Stew EP in 1982; Berry departed soon after and was replaced by Adam Horovitz, and Shellenbach also departed as the group evolved into a hip-hop act.
Eventually the Beasties traded in their instruments for mics and a turntable, as Yauch, Diamond, and Horovitz became known as MCA, Mike D, and King Ad-Rock, respectively. The Beasties acknowledged that hip-hop and punk shared certain sensibilities.
Released independently in 1983, the Beasties' 12-inch "Cookie Puss" was basically a forerunner to the Jerky Boys, but this crank phone call to a Carvel Ice Cream store featured a backing of hip-hop beats and scratching. The flipside, "Beastie Revolution," had the Boys jokingly posing as Jamaican toasters, hinting at the genre-jumping that was to come.
[jwplayer player="1″ mediaid="101036″]
With their transformation into a hip-hop group complete, the trio needed a DJ for its live gigs. They chose Rick Rubin, an NYU student and budding producer who went by the stage name of DJ Double R. Also smitten with hip-hop, Rubin formed Def Jam Recordings with fellow New York hip-hop enthusiast Russell Simmons. In 1985, the Beastie Boys released the Rubin-produced, AC/DC-sampling "Rock Hard" on Def Jam, the label's second single. Def Jam, whose roster also included LL Cool J, had landed a distribution deal with major label Columbia Records, which would insure their releases could be found in stores across the country. However, Mike D claimed that the Beasties weren't high on Columbia's list. "They looked at us as the curse of the whole deal," he said at the time.
Recorded on and off during 1985 while completing tours as a support act for Madonna and Run-D.M.C., Licensed to Ill showcased the Beasties' rapid growth from fun-loving pranksters to a legitimate hip-hop act, although there was still plenty of clowning to be found.
But Licensed to Ill didn't immediately work its way into the popular consciousness. The first four singles released from the album — "Hold It Now, Hit It," "Paul Revere," "The New Style," and "Brass Monkey" — had only moderate success on the Black Singles and dance music charts. It was the via the album's fifth single, "(You Gotta) Fight For Your Right (to Party)" that the Beasties bumrushed their way into the mainstream.