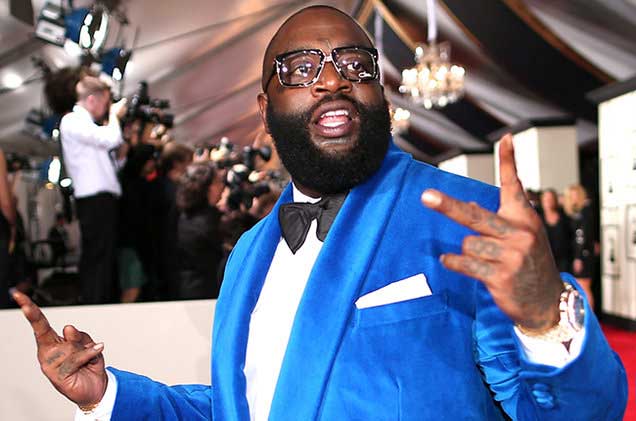 Rapper Rick Ross potentially faces Class E felony charges for issuing a direct death threat against President-Elect Donald Trump. Â The offense could result in five years of imprisonment or $250,000 in fines.
Rick Ross may face scrutiny from US Secret Service officials following a direct death threat against Donald Trump.  The issue surrounds the YouTube release of Ross' latest video, 'Free Enterprise,' according to details shared Monday with Digital Music News.
In the song, Ross explicitly discusses killing President-Elect Donald J. Trump. Â This is the portion of the song in question:
"Assassinate Trump like I'm Zimmerman
Now accept these words as they came from Eminem
Democratic Party sentenced to the pendulum
Killing them, I voted for Andre Benjamin."
Those lyrics have been clearly construed as a death threat by multiple observers, though the Secret Service never discusses ongoing investigations.  At this stage, it's unclear if Ross has been contacted by the US government, or if the matter will be prosecuted.  Ross' management agency has not responded to a request for comment.
Under United States Code Title 18, Section 871, criminal repercussions can apply to "any threat to take the life of, to kidnap, or to inflict bodily harm upon the President of the United States".   'Class E' is the least serious felony classification, and carries a maximum prison term of five years.  The maximum fine for a Class E felony offense is $250,000, with 1-5 years of probation.
Pulled from Walmart. Bleeped from YouTube…
Against potential issues, some outlets are taking pre-emptive steps.  Already, Walmart has pulled the album containing the song from its stores after a high-profile complaint. YouTube hasn't pulled the video, but sources have told Digital Music News that a bleeped version was uploaded on November 9th to replace the earlier version.
Meanwhile, versions of the uncensored track can be found on multiple digital outlets, including Spotify, Apple Music, Google Play Music, and Amazon Music Unlimited. Â Even the lyrics themselves are available on Google Music. Â Those outlets may pull the track following the election of Donald Trump to the presidency.
'Free Enterprise,' which features John Legend, was actually released on the album Black Market in 2015.  That was before Trump's election to the Presidency, though Secret Service officials also consider threats against political candidates as punishable offenses.  That was the case with Obama, who reportedly started receiving death threats early in his 2004 presidential campaign.
Meanwhile, death threats against Donald Trump have been overflowing online, particularly on networks like Twitter and Facebook.  According to sources, those threats are being vetted, with serious threats isolated for investigation or criminal action.
Sources have also reported that Donald Trump has been advised to wear a bulletproof vest in public.  During Trump's campaign, several assassination scares emerged, though none proved real.
Separately, Rick Ross reportedly owes $5.7 million in unpaid taxes. Â TMZ first reported the delinquencies, though Ross has blamed a sloppy accountant for the discrepancies.