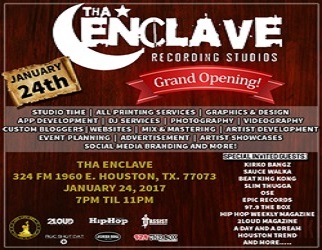 The newest innovative and most exclusive entertainment venture, Tha Enclave, will hold its Grand Opening on January 24, 2017 from 7 p.m. to 11 p.m. on January 24th. The event will include numerous celebrities and entertainment personalities. There are also numerous urban media outlets taking part in the celebration, including 2Loud Magazine, Hip Hop Weekly, 97.9 The Box, and more. Roc Shot That Media Services will be on hand photographing and recording the events of the evening.
Tha Enclave, a Loss Life ENT held property, is a one-stop shop that will offer multimedia services in-house including:
Full-service recording studio
Printing services
· Graphics & design services
· Promotional consultations
· DJ services
· App development
· Photography
· Videography
· Blogging
· Website development
· Artist development
· Event planning
· Advertising & marketing
· Artist showcases
· Social Media Marketing
Tha Enclave is located at 324 FM 1969, Houston, Texas. It will be the sought out full-service studio for all
artists, particularly celebrity artists. It is a luxury facility with more than 3,200 square feet to provide a
stellar experience for all clients.
For interviews, more information or to book a session, contact thaenclave@gmail.com.
Media Contact
Arlene Culpepper/MIKODreamz PR
337.298.2385