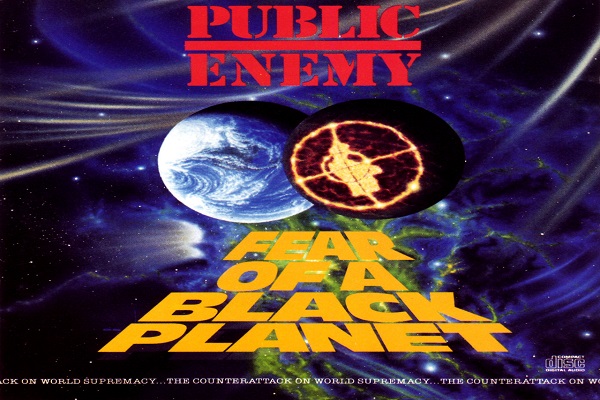 Fear of a Black Planet is the third studio album by American hip hop group Public Enemy. It was released on April 10, 1990, by Def Jam Recordings and Columbia Records. For the album, Public Enemy's production team The Bomb Squad sought to expand on the dense, sample-layered sound of the group's 1988 record It Takes a Nation of Millions to Hold Us Back. Having fulfilled their initial creative ambitions with that album, Public Enemy aspired to create what lead rapper Chuck D called "a deep, complex album". Their songwriting was partly inspired by the controversy surrounding member Professor Griff and his dismissal from the group in 1989.
Fear of a Black Planet features elaborate sound collages that incorporate varying rhythms, numerous samples, media sound bites, and eccentric loops, reflecting the songs' confrontational tone. Recorded during the golden age of hip hop, its assemblage of reconfigured and recontextualized aural sources preceded the sample clearance system that later emerged in the music industry. Fear of a Black Planet explores themes about organization and empowerment within the black community, social issues affecting African Americans, and race relations at the time. The record's criticism of institutional racism, White supremacy, and the power elite was partly inspired by Dr. Frances Cress Welsing's views on color.
A critical and commercial success in 1990, Fear of a Black Planet sold two million copies in the United States and received rave reviews from critics, many of whom named it one the year's best albums. Its immediate success contributed significantly to the popularity of Afrocentric and political subject matter in hip hop and the genre's mainstream resurgence at the time. Since then, it has been viewed as one of hip hop's greatest and most important records, as well as being musically and culturally significant. In 2003, Fear of a Black Planet was ranked number 300 on Rolling Stone's list of the 500 greatest albums of all time, and in 2005, the Library of Congress added it to the National Recording Registry.
Originally intended for an October 1989 release date, Fear of a Black Planet was released on April 10, 1990 by Def Jam Recordings and Columbia Records. Although It Takes a Nation garnered Public Enemy more exposure with black audiences and music journalists, urban radio outlets had mostly rejected Def Jam's requests to include the group's singles in their regular rotation.[70] This incited Def Jam co-founder Russell Simmons to attempt grassroots promotional tactics from his earlier years of promoting hip hop shows. In promoting Fear of a Black Planet, he recruited young street crews to put up posters, billboards, and stickers on public surfaces,while Simmons himself met with nightclub DJs and college radio program directors to persuade them to add album tracks such as "Fight the Power", "911 is a Joke", and "Welcome to the Terrordome" to their playlists.
[jwplayer player="1″ mediaid="107045″]