7 WAYS NIPSEY HUSSLE USES INSTAGRAM TO ENGAGE WITH HIS FANS
Words By: Hao Nguyen
1) Optimize your homepage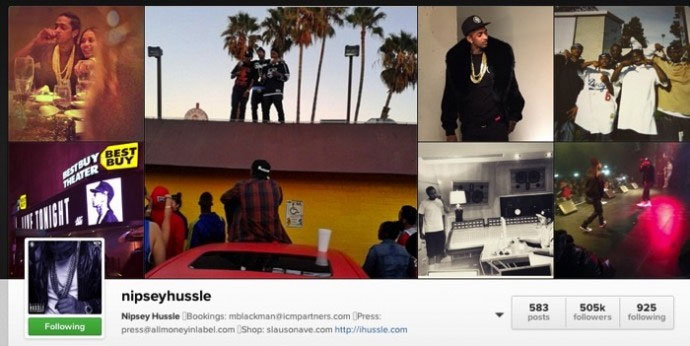 Take a look at the screenshot of Nipsey's Instagram homepage below – it's been optimized to make sure he's getting the most out of the limited space. He's got an image of his latest release, Mailbox Money, as his logo; booking and press details are available and links to his website and shop are also there.
Anyone who visits his Instagram page looking for something knows exactly where to go. You want to make it as easy as possible for label representatives, A&Rs, DJs and other artists to find you. The most important thing is that you make sure to post a link to your own website – you do have a website right?
2) Keep fans updated on live shows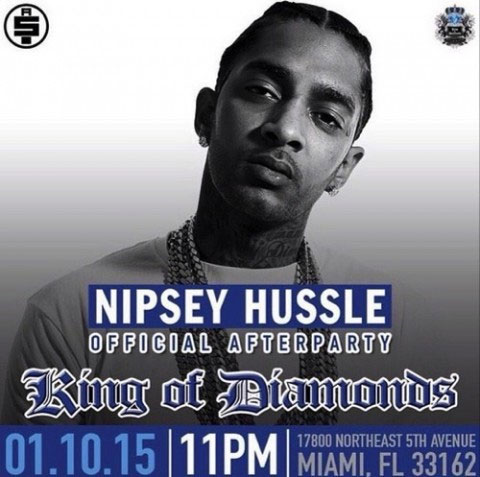 In this day and age, with falling record sales and multiple streaming services, most hip-hop artists make their money from endless touring. A great example would be Currensy who drops free tapes, tours relentlessly and cops fly whips.
If you're an independent rapper, chances are you're not making any money from selling your music but rather from live shows. Touring is most likely your biggest and most consistent revenue stream, so why wouldn't you want to promote it?
Instagram is a great place for you to post up flyers and posters of any upcoming shows. Make sure you also include a link to buy the tickets to your shows.
3) Post pictures of your merchandise
Just like touring, selling merchandise is another great way for independent hip-hop artists to expand their revenue streams. If you have products to sell, make sure you're always promoting them on Instagram.
Remember to a include a link or information on where to cop the merchandise. For example, for the hat below, Nipsey let fans they can buy it at SlausonAve.com.
4)Â Gives fans a look behind the scenes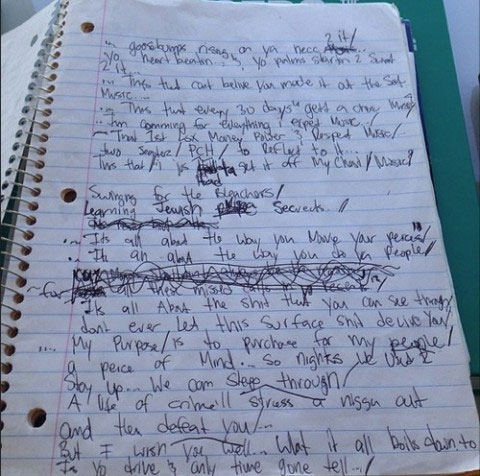 Giving fans a look behind the scenes is a great way to hype up upcoming projects. As listeners, we're endlessly fascinated by how artists create their music – learning how much time and effort goes into each song will no doubt make people more appreciative of your craft.
Also, if you're recording a new single – a 15-second Instagram video clip is a great way to promote it without giving too much away. Meek recently released a teaser of him rapping over Raekwon's "Ice Cream" instrumental that sent the internet into a frenzy.
5) Show fans your real life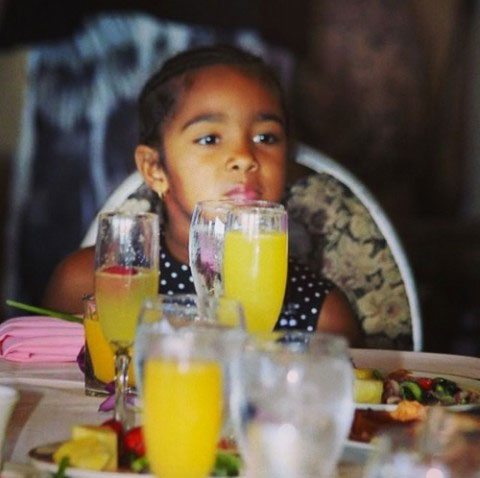 Not everything you post on Instagram has to be promoting your music. Nor does it have to be of you partying in the club or making it rain on strippers – how many of those photos have we seen already?
Focus instead on giving fans a look into your real life without the bravado and the money. Posting photos of your family at Christmas and you having dinner with your homies will make you more interesting as a person and help you connect better with your fans.
6) Promote other artists' music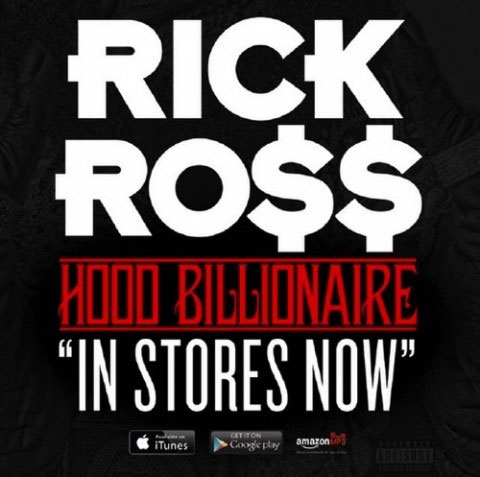 It's all about your network in the rap game. Posting up a mixtape or album cover from an artist you're cool with doesn't take much of your time but it'll mean the world to them.
Just imagine if you were scrolling through your Instagram feed and saw that one of the artists you were following posted up a photo of your latest mixtape cover with the caption "New tape from my man, go cop it." How dope would that feel?
Of course, only post their music if you genuinely want to support them and not just as a way to get them to post your stuff.
7) Celebrate your wins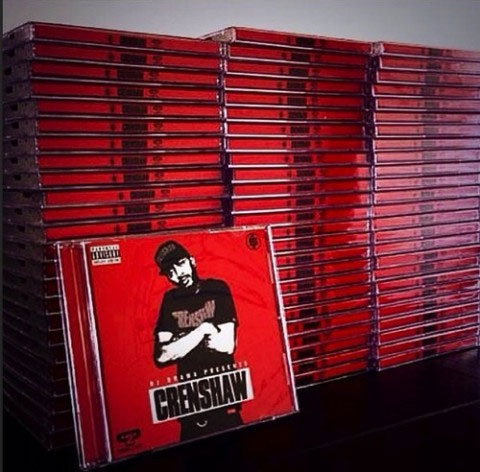 As independent hip-hop artists, you're constantly on the grind day and night. With limited resources and budget, you're forced do everything by yourself. That means recording music, marketing and promoting yourself, sourcing artwork, organizing press interview, booking tours, performing at live shows; the list is endless.
You tend to get lost in the hustle and forget to stop and evaluate your progress. Don't forget success is a long and winding road so if you're going to make it in the rap game, you've got to keep yourself motivated by celebrating your wins.
When Nipsey managed to move 1,000 physical copies of Crenshaw at $100 a pop, he made sure he celebrated the achievement on Instagram. Celebrate your wins and share them with your fans because they'll be the ones who support you on your long road to success.