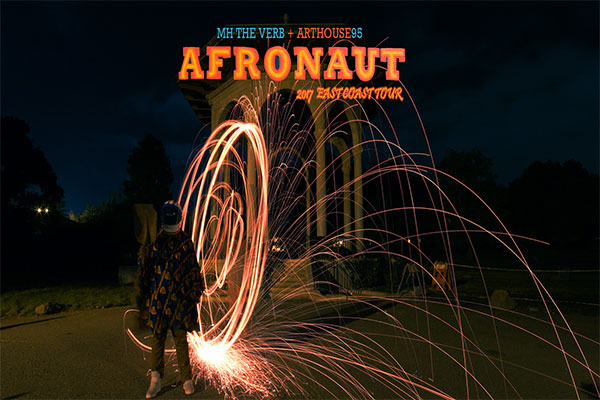 MH The Verb & ArtHouse95 – Announce The 'Afronaut' East Coast Tour
Following their otherworldly introduction to the new science fiction (s)hero, the "Afronaut," MH the Verb and Philly-based multi-media hip-hop collective ArtHouse95 announce tour dates for their East Coast tour, starting in Philly August 31st.
Tour dates are as follows:
Thursday, August 31 – Vibe House, An Electric Jam Session @ South Bowl (Philadelphia, PA)
Friday, September 1 @ Silvana (Harlem, NY)
Sunday, September 3 – The A/V Project, An Interactive Presentation of Music And Art @ Knitting Factory (Brooklyn, NY)
Friday, September 15 @ Uptown ArtHouse (Washington, DC)
Saturday, September 16 @ Â Terrace Club (Princeton, NJ)
Afronaut is the title of MH and  Buscrates 16 Bit Ensemble's forthcoming collaborative LP, which will serve as the full-length follow-up to ArtHouse's 3-song sampling Owl EP. "Traffic" is the project's lead single and the video is the first installment of a three-part video series.