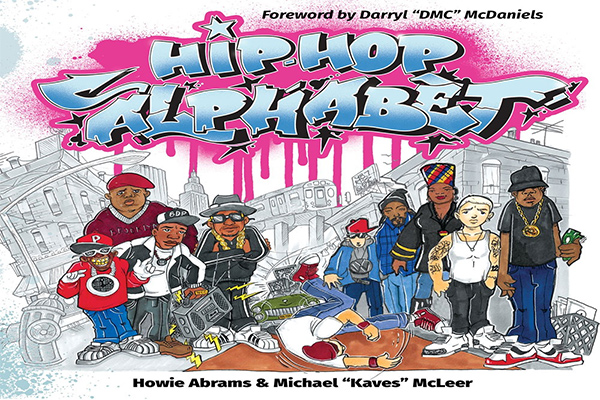 Hip-hop has been alive and thriving for 44 years, with boundless creativity, iconic emcees, and rich culture that have transformed society. With hip-hop recently being named the #1 genre in America, it's important that people appreciate where it came from.
Hip-Hop Alphabet, which will be published by Lesser Gods in October, is a kid-friendly intro to hip-hop. Featuring clever rhymes by Howie Abrams and graffiti-style drawings by legendary artist Kaves, Hip-Hop Alphabet uses the twenty-six letters of the alphabet to educate kids about classic icons (LL Cool J, Beastie Boys, and Jay-Z) as well as essential elements of the music and culture (DJs, vinyl, and graffiti). Hip-hop pioneer Darryl "DMC" McDaniels of Run DMC wrote the book's foreword. A portion of proceeds will be donated to the Jam Master Jay Foundation for Music, which operates under the simple premise that, regardless of socio-economic status, every child deserves equal access to the arts.
The highly anticipated book has garnered overwhelming support from the hip-hop community, including nods from staples such as XXL, VIBE, and Pigeons & Planes.  When asked about the inspiration behind Hip-Hop Alphabet, author Howie Abrams explained, "I grew up during the golden age of rap music and hip-hop culture here in New York. When I became a parent, I realized that engaging with a child was more fun when I loved and could relate to what we were doing. Hip-Hop Alphabet is something Kaves (who is a dad of four) and I wanted to offer to parents who wish to pass their love of hip-hop to their children."
Abrams adds, "Kaves has been an underground legend since the '80s as a graffiti artist and an emcee in Lordz of Brooklyn. We share an affinity for a lot of the same rap artists—RUN DMC, Public Enemy, Biggie Smalls, Beastie Boys—and have the utmost respect for the culture from where this all came. Kaves was a natural choice to work with for the illustrations, and he outdid himself!"
For more information on Hip-Hop Alphabet and links to preorder the book, visit
http://www.lessergodsbooks.com/book/hip-hop-alphabet.