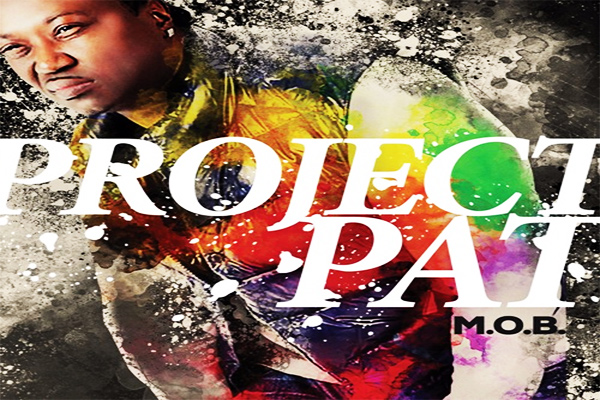 Originating from Memphis, TN, Project Pat began his career by making appearances on his brother Juicy J and DJ Paul's early releases.  After serving several years in prison for robbery charges and disappearing from recording, he re-emerged in 1999 with the solo album, Ghetty Green, which was released on Juicy J's Hypnotize Minds label. He then became an unofficial member of Juicy and Paul's newly established group Three 6 Mafia; and first gained mainstream attention when he provided the hook for the group's hit single "Sippin' on Some Syrup."
Project Pat released his breakthrough second studio album Mista Don't Play: Everythangs Workin' (which went Platinum) and the projects singles "Chickenhead" and "Don't Save Her" gained heavy national radio airplay and became staples on BET & MTV. Shortly after the release of Mista Don't Play, Pat was charged with a parole violation and began a four-year prison sentence after illegal guns were discovered in his car during a traffic stop.
After his release from prison in 2005, Pat released his highly-anticipated Crook by da Book: The Fed Story album and aided by the first single "Good Googly Moogly" featuring DJ Paul and Juicy J made an immediate impact on the Billboard charts by selling 40,000 copies in its first week.
After Pat released Crook by da Book, he secured a release from Columbia Records and signed with E1 Music to release his fifth studio album Walkin' Bank Roll (which debuted at #45 on the Billboard 200) and his sixth studio album, Real Recognize Real was his first release for Asylum Records and it included his hit single "Keep It Hood" featuring OJ Da Juiceman and it debuted at #8 on Billboard's Rap Chart.
In 2015 Project Pat released Mista Don't Play 2 in a joint deal with Wiz Khalifa's Taylor Gang Entertainment, which featured appearances from Khalifa, Wale, Ty Dolla $ign, Juicy J, the late Doe B and production from Mike WiLL Made It.
Over the last few years, Project Pat has stayed busy by contributing to high profile releases from Juicy J (Stay Trippy), Rick Ross (Hood Billionaire) and Wiz Khalifa (Blacc Hollywood).
Now, Project Pat announces his ninth-solo album, M.O.B., which will be released on 9-8-17 by Cleopatra Records.
Pre-order Project Pat's M.O.B. album at iTunes and receive "Money" as an instant grat track.
Tracklisting for Project Pat's 'M.O.B.' Album:
1.)   "Pockets Hurtin'"
2.)   "Slangin' Butta"
3.)   "Wit The Shii"
4.)   "Extortion Game"
5.)   "A Real One Will"
6.)   "We Dem Ones"
7.)   "Very Paranoid"
8.)   "M.O.B."
9.)   "Ain't No Passes"
10.) "Lit' Em Up"
11.) "O's" f/ Young Dolph
12.) "Money" f/ Juicy J