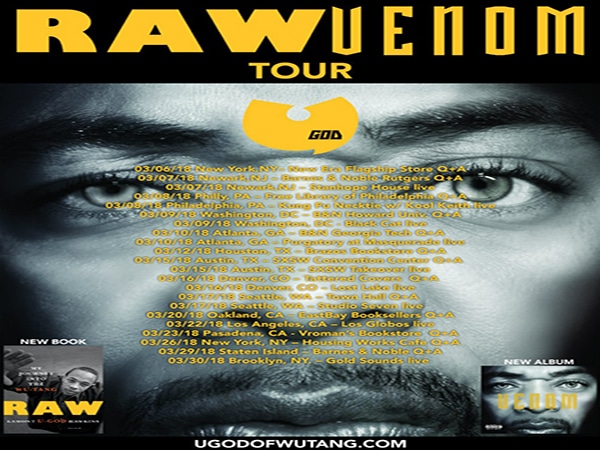 U-God announces dates for his 'Raw Venom' U.S. tour.
In celebration of his new memoir/book RAW: My Journey Into The Wu Tang, available on March 6th, U-God is set to release his new studio album VENOM, which will arrive worldwide on March 30th via Babygrande Records. Golden Arms will also be hitting the road for his first solo U.S. tour in five years (tour dates below).
U-God will also be hosting an intimate Q&A where Wu fans are welcomed to get close and personal with the God, as he reveals classic stories from RAW about growing up on Staten Island, including the early development of the legendary WU-TANG CLAN.
In select cities, U-God will bless fans with live performance at a nearby intimate club after the Q&A sessions. Tickets are limited for this once in a lifetime opportunity and must see RAW VENOM U.S. Tour.
Pre-Order U-God's Book, Raw: My Journey into the Wu-Tang which will be released on 3-6—18:  https://us.macmillan.com/books/9781250191168