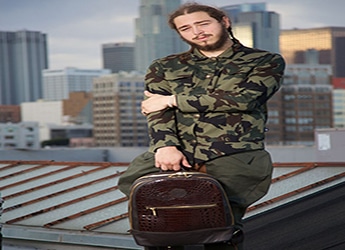 Post Malone's beerbongs & bentleys is destroying records set by Drake, The Beatles, J. Cole, and even his previous album.
Post Malone's career was supposedly over after 'White Iverson'. But it turns out that Post is a veritable hit-making machine — and smashing records set by the likes of Drake, J. Cole, and even The Beatles.
The rapper's latest release, beerbongs & bentleys, actually went Platinum the second it was released. That's because under new Recording Industry Association of America (RIAA) certification rules, streaming totals now count towards an album's broader success.
And beerbong's tracklist is stuffed with smashes: 'rockstar,' 'Candy Paint,' 'Better Now,' and 'Psycho,' among others. In total, Post Malone has 9 songs in the top 20 of Billboard's Hot 100 chart, enough to easily beat a record first set by The Beatles in 1964. The Fab Four originally set the record with 6 songs in the top 20.
Actually, J. Cole recently tied that mark last week. But that's all trivia at this point.
There's also another proud title being smashed: Drakes all-time one-week streaming mark.
Nielsen Soundscan counted a healthy 288,000 'streaming equivalent album sales' last week, a US-based tally.  That trumps Drake's 267,000 from last year.  Drake's More Life set that mark last year, with explosive streaming volumes producing bigger-and-bigger records every year.
Overall, Post's album scored a one-week sales tally of 461,000 equivalent albums, according to Nielsen.  The album is also topping charts worldwide, including the UK.
Smartly, Malone is currently on tour with 21 Savage, and just played Coachella.
According to legend, Post Malone first uploaded 'White Iverson' to SoundCloud on February 4, 2015.   Within 24 hours, Malone (whose real name is Austin Post) was well-known and riding a viral hit.  His subsequent album release, Stoney, debuted in 2016 and went double-platinum.  In fact, it's still charting, buoyed by a mix of previous and current hits.
Source: Digital Music News