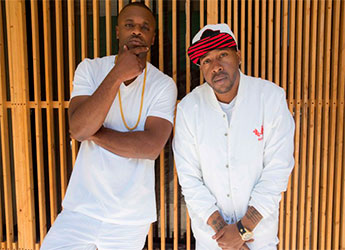 Stylz and Wells share their new 'Involved' visual featuring Symphony Green.
Multi-Platinum record producer J Wells and Styliztik Jones of the Likwit Crew team up to form new group Stylz & Wells. Stylz and Wells have excelled in music, television and film during the last several years. J Wells has produced  for several of the biggest names in music (Snoop Dogg, Dungeon Family, Jay Rock, Keyshia Cole and TI's new Hustle Gang single "Do No Wrong").  Stylz gained a name as a battle rapper on Sway & Techs "The Wake Up Show" and was invited early on to join the Likwit Crew. Since then Stylz has kept busy writing songs for landmark television programs Friday Night Lights, The Simpsons, Ugly Betty and others. After achieving significant success individually, they both decided it was time to return to the foundation; and now as the newly formed group, Stylz & Wells, the Los Angeles-based duo have their sights set on injecting powerful music with a conscience into the marketplace with their forthcoming (still untitled) debut EP.
Case in point is Stylz & Wells propulsive new single and video "Involved," which was premiered today by Hiphopdx.  Over a muscular groove accented by sirens and well-placed keys, Stylz & Wells promote doing positive things with your life.  "It gets you inspired" Stylz stated to Hiphopdx. "It's a song with a message, but it's not preachy.  I think the misconception with hip-hop is that it's got to be dumb. You can do smart ratchet rap. You can make music that's upbeat and still talk about something." J Wells echoed those sentiments "It's time for a dope group to stand for something, to have a message; a message which is cool that's on some hip-hop stuff" he explains.
Now, with Stylz & Wells, the duo has come full circle. They've worked on the biggest stages for and with others. Now they're focusing on themselves and creating the type of music that matters to people.
"We're past the experimental stage," Stylz says. "We know what sounds good. We know how to conduct ourselves in the studio. We're seasoned in the game now."
[jwplayer player="1″ mediaid="110852″]