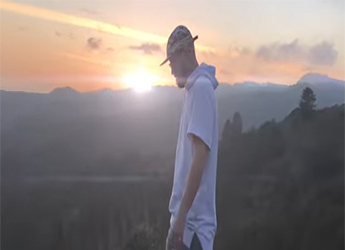 Vocab Slick returns today with his new visual for 'Flying'.
Bay Area, California rapper and Distant Relatives member Vocab Slick presents the William Rushton-directed music video for "Flying", Vocab's new single produced by Rob Wright. The track features guest vocals from singer/model Tricia Danieli, who was recently featured in Playboy Slovakia and Playboy Africa. Releasing his debut solo album Lyrically Conscious in 2003 following several stints in jail, Vocab formed the group Distant Relatives with his childhood friend Emotionall and rapper Maynee.
Emotionall was subsequently deported to Mexico, and Maynee passed away in 2014, one year after Vocab's mother passed and his daughter was born. Vocab bounced back with 2014's Somethin' Slick EP , followed by the Issues & Episodes full-length. Vocab co-founded the Slap Frost Tour, which grew into an annual festival featuring the likes of Planet Asia, Locksmith, and Chino XL. Vocab recently toured with Tha Alkaholiks and Gavlyn following the release of his EP The Day After Yesterday, which "Flying" appears on.
"Sometimes it's hard to find the courage to put in the work to fulfill our goals or dreams," Vocab says about the new single. "I find myself looking for that extra push almost daily. This song to me is a positive affirmation to me and people in general to find their wings, and fly to the unknown. No matter how scary it can be, the reward is worth it."
[jwplayer player="1″ mediaid="116667″]