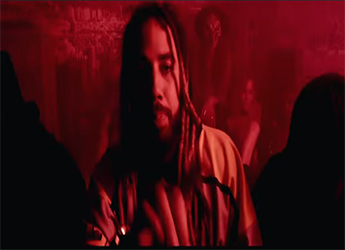 DillanPonders returns today with the new 'Samson' visual off his Matrix album.
Last month, DillanPonders gave the world MATRIX. Today, Ponders delivers a music video for 'Samson', the album's lead single.
Hazy and archaic, the video for the Kevin Rolly-produced Goliath sees Ponders at a hazy party with angels, demons and masked creatures, melting away into an almost unrecognizable pile of ooze.
The song itself is a behemoth and rightfully claims its own space from the start. Atop thick, full bells and lush 808s, Ponders seamlessly switches back and forth from his signature multiple flows.
On bars like "Wanna see a change? Stop watching the news / Stay true to yourself and you'll be a better man" and "Your girl wants me to sign her tits / Your man wants me to sign his kicks / I don't know where to draw the line / Maybe when they ask me to sign their kids" Ponders blends both insightful and comedic lines together into one exciting package.
[jwplayer player="1″ mediaid="117582″]