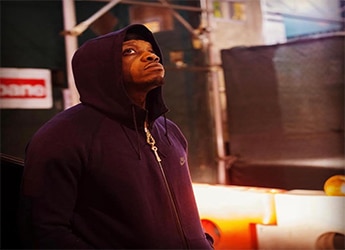 Recently finishing a 7-year sentence, Flatbush native King Mean has returned to the streets of the Big Apple with a renewed focus on life. Hitting the studio quickly, King Mean has taking his rhyme book which carried him through his darkest nights in prison and has turned his penmanship into a considerable amount of quality records.
The kick-starter is his street anthem, Made Me, an ode to those who doubted and even lied about the role they have played in his redemption.  A product of the gritty streets of Flatbush, King Mean is no stranger to struggle and possesses a fortitude which he has directly applied to his hustle in music.  After making the NY Daily News under the headlines, "Brooklyn Stickup Punks Boxed In" he looks to publicize in a much more positive and progressive manner as he has plans to take Hip Hop by storm.
Working tirelessly on his album titled "Sacrifices," King Mean has been making his rounds allowing his presence and art to be felt by the masses.
Stream "Made Me below"
[jwplayer player="1″ mediaid="117757″]
Connect With King Mean:
Instagram @kingmean 
Twitter @kingmean_
YouTube I am king mean