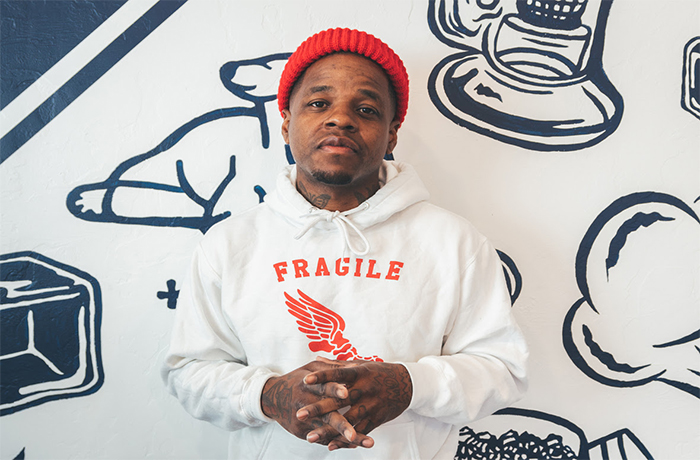 Jabee returns with his new 'Praying Hands' video.
Emmy award-winning Oklahoma City rapper Jabee presents the Justin Renyer-directed music video for "Praying Hands," the Smitti Boi-produced new single from This World Is So Fragile & Cruel I'm Glad I Got You, Jabee's new album featuring appearances from Slug of Atmosphere, Lil B The Based God, Wale, Medaforacle, The Allie Lauren Project, Propaganda and Trishes as well as production from Statik Selektah, Rnd 1, 88 Keys, Smitti Boi, Leron Vision, Paul Cabbin, Lauren Nicole Clare, Blev and S1-Symbolic One.
Jabee's Black Future album featured Chuck D, Brother Ali and Killer Mike, and Murs' 3:16 label released Jabee's 2013 release Everything Was Beautiful And Nothing Hurt which featured "Stephanie", a track produced by El-P. Jabee was already one of URB Magazine's Next 1000 when his DJ Vadim-produced Blood Is The New Black mixtape dropped in 2008. His Must Be Nice mixtape collaboration with Terry Urban and Mick Boogie featured Green Lantern, 9th Wonder, Blu and Oddisee. His 2011 Lucky Me mixtape clocked 40,000 downloads. Jabee contributed a track to the official Boondocks Season 3 mixtape, and won an Emmy for his writing and performance in a commercial for Science Museum Oklahoma (watch).
Durant commercial "The Baddest". In 2014 Jabee was invited to Shade 45 in NYC to be featured and interviewed by Sway of "Sway in The Morning" (watch). Chuck D of Public Enemy says "Jabee's music has the potential to change the world." Jabee has toured with Run the Jewels and Murs. Jabee says his new single "was the last song I recorded for the album. I just felt like this was what it was missing. I wanted to talk about some things that are going on where I'm from."
[jwplayer player="1″ mediaid="130588″]