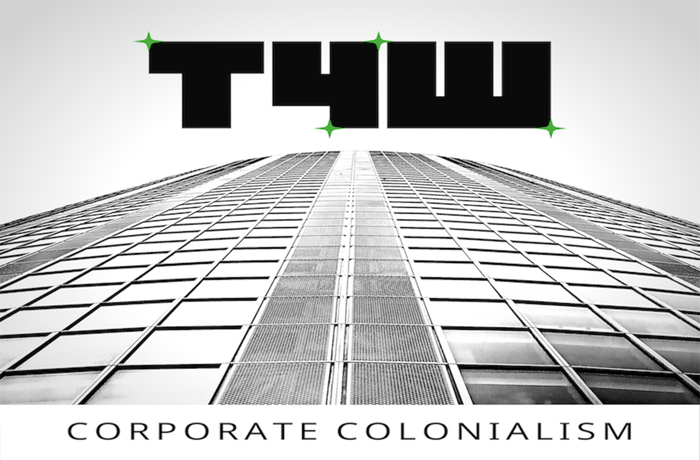 The 4th World make his SpitFireHipHop debut with the new "Corporate Colonialism" video.
Hip-Hop trailblazer The 4th World has released a powerful new single, "Corporate Colonialism," available digitally everywhere now. The song, which was released on all streaming platforms May 8th along with the music video, marks the latest in a string of politically charged releases from the London-born and based artist.
Drawing influence from activist/rapper Immortal Technique in his lyrics and composer Hans Zimmer in his orchestral backing tracks, The 4th World (a/k/a T4W) manages to fuse seemingly disparate influences into a unified sound with an unmistakable message of protest. "Corporate Colonialism" surges over a trap piano beat, and as the title suggests, pounds with no-holds-barred lyrics targeted at exposing how the legacy of colonialism remains alive throughout the world today. Right out the gate, he raps: "The Third World's riches; still stolen over and over / Colonial Apartheid in a corporate makeover." By aiming his sights on the continued exploitation of Third World countries at the hands of greedy corporations, The 4th World hopes to expose–and halt– the unjust cycle of poverty that deprives native populations of vast enrichment from the exceptionally lucrative value of their very own highly sought-after resources.
T4W is an artist looking toward the future with a sound and subject matter that has never been more urgently needed than at present. Underpinning his eloquent and informative lyrics is a desire to use his art as a vehicle to bring about positive change. "Corporate Colonialism" reflects on similar issues as today's Black Lives Matter movement, which has recently been the focus of much attention in the media on a global scale. "Given that Third World countries are home to the largest concentration of mostly non-white human populations," T4W points out, "The Third World is the proof that the dark soul of colonialism continues to endure."
"Corporate Colonialism" comes on the heels of other highly political and well-received music from the outspoken artist. His single "Human Independence Day, Pt. 2" from his 2018 self-titled EP has garnered over 35k streams on Spotify, and his prelude to "Corporate Colonialism," the single "The System of Insanity Enslaving the World and Humanity," was the Indie Spotlight Pick of the Week for Hip Hop Weekly. The song also received praise from a number of publications, including A&R Factory, who call The 4th World "an artist with the ability to urge the listener to wake up the world [and] …make his words flow like spoken word poetry." Indie Spoonful also shared kind words: "It is more than music and it's more than a message – it's a call to wake up and ultimately to start a movement one song at a time."
[jwplayer player="1″ mediaid="131208″]